Cruise and Fishing
Take in Tokyo from the Waterfront
Explore Tokyo from the sea with a Japanese houseboat or a cruising boat for fishing.
about this program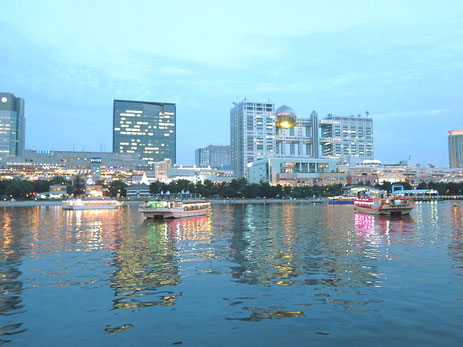 Duration: 3 - 6hours
Start Time: Anytime between 7:00am ~ 18:00pm
(We can make suggestions according to your purpose and wishes from a fishing boat or Japanese houseboat)
What's unique about this tour:
*Choose from a Japanese houseboat OR a fishing boat to suit your purpose.
*Choose tour length and course to suit your taste and purpose.
*Courses can be changed flexibly according to the weather on the day.
*Courses can be customized upon prior request.
Standard Sightseeing Courses by Houseboat
Plenty of Instagram-worthy spots on the ocean! Our boatmen know them all!
Course A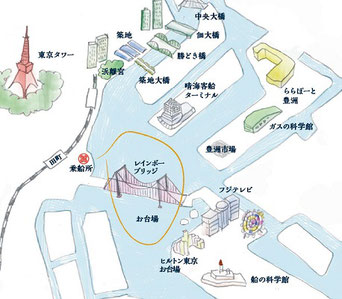 A relaxing course that takes you around Odaiba and the modern buildings near the Rainbow Bridge. The night view is wonderful too. There's nothing like a cruise enjoying a bite to eat and a drink!
(Depending on the COVID-19 situation, alcoholic beverages may not be served as requested by the government.)
Course B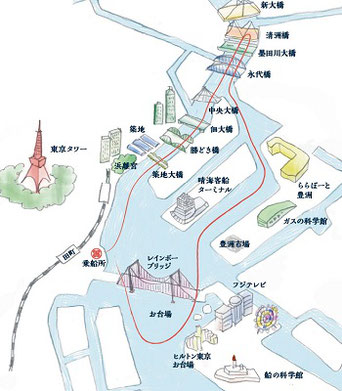 This course will take you on a tour starting from Odaiba and the Rainbow Bridge, along the Sumida River to Tsukiji and Ginza area. Enjoy the panoramic view of the old and new Tokyo in these areas which served as the home of the Tokyo 2020 Olympics.
Course C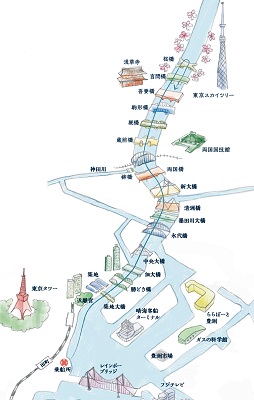 From the heart of Tokyo to its downtown area. A river cruise that travels under the many bridges along the Sumida River, one of Tokyo's most well-known waterways.
See the Tokyo Skytree, the second tallest tower in the world, up close.
Course D: Our Original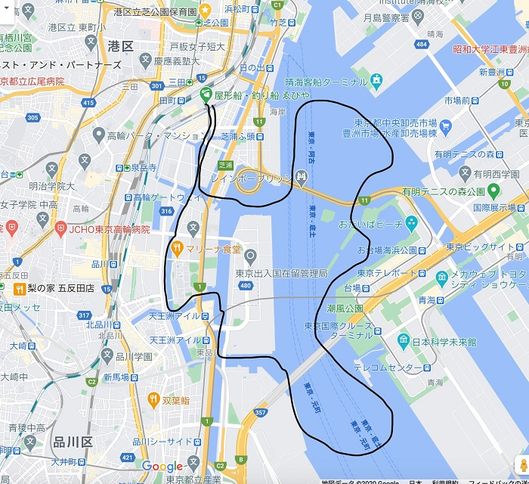 A sightseeing cruise specially designed by us!
A carefully selected originally-tailored course that lets you enjoy Tokyo to the fullest utilizing the whole day!
 Explore the fashionable canal area of Tennoz Isle.
 From Odaiba to the Haneda Airport area.
A stylish course where you can see airplanes up close!
All from the comfort of a safe, hygienic, and roomy vessel.
 Enjoy one of the world's most beautiful views of Tokyo in the elegance of a private charter cruise!
Sightseeing on a beautiful "yakatabune" (Japanese houseboat).
Enjoy the culture of "Edo" (old Tokyo) in style!
Japanese cuisine goes well with cruises!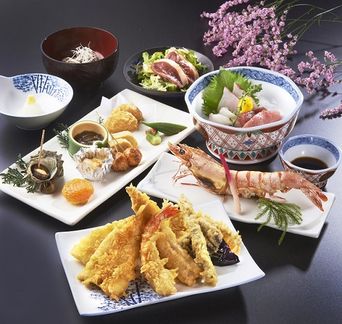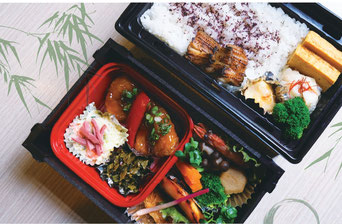 We can order meals on request.
Enjoy a freshly fried tempura meal.
Maybe a "Bento" (lunchbox) for a casual lunch.
And if you want, savor some Japanese sake.
(Depending on the COVID-19 situation, food and alcoholic beverages may not be served as requested by the government.)
"Sushi", the Japanese cuisine we all know and love, has its roots in the fish caught and in Tokyo Bay.
Q: Can I use the boat not only for fishing but also for sightseeing?
A: Yes, of course.
The boats are spacious. Relax and chill on the water.
The captain will choose the best scenery and fishing spots, so those who don't fish can enjoy the cruise.
Tokyo Bay is full of great views.
Enjoy chatting and the scenery, while you fish. Fishing gear is available for rent.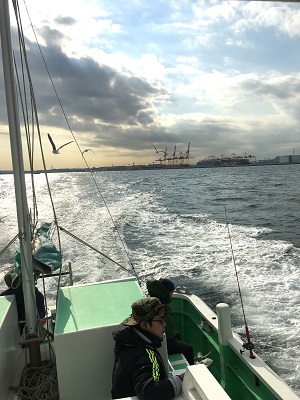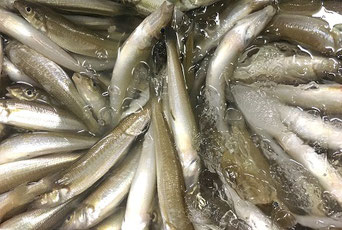 The fish you can catch depends on the season.
You probably won't catch big fish like tuna, but you can catch delicious fish that are perfect for sushi or tempura all year round.
Don't worry, the captain will give instruction to beginners.
Tokyo Bay, the inlet bay of the metropolis, still carries on the culture of Edo.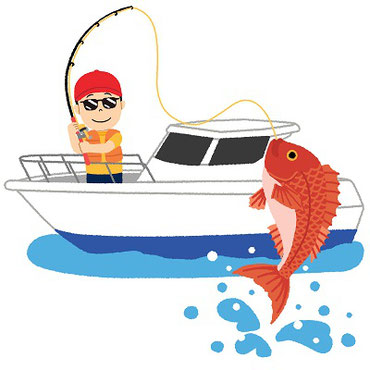 Fishing in Tokyo Bay, home to buildings and factories?
Tokyo Bay has been an important place that shaped the food culture of Tokyo, since the Edo period. Today, it's still a great place to fish.
You probably won't get to catch the big fighting fish, but you can catch safe and tasty smaller fish!
If you are staying in a hotel with a kitchen, or if you live in Tokyo, you can take the fish home with you! Chance for a great dinner.
Even if you are not interested in fishing, you can still enjoy the superb view from the boat!
When near Haneda Airport, lie down on the deck and the planes will feel close like you can almost touch them!
The view of the industrial areas resembles a futuristic city, definitely something to behold. Enjoy Tokyo Bay with your family or friends. 
Minimum Price  JPY 198,000 per group
Price start from JPY 198,000 per group (*up to 15people)
To prevent the spread of COVID-19, the number of participants has been limited.
pick up service in your hotel (Tokyo central area)
a local English speaking attendant fee. (Within 6 ours)  ※Additional charge will incur if tour is over 6 hours.
Return to the hotel or send to any place in Tokyo central. (If you need.)
Your transportation expenses.
Your drinks and meals
People with Mobility Issues
People with wheelchairs are welcome but a companion is required.
※For safety reasons,

electric wheelchairs cannot be used.

Tours may vary due to accessibility requirements.
BOOK This tour
Please fill out the form below to contact us.
Please enter the date and time of your choice, from your first to third choice (as much as possible).
☆ For houseboats, the price will vary depending on the inclusion of a meal, the course, and time of day.
Please fill in your request.
We will make some suggestions based on your request.
We will consult with you by e-mail to decide on tour details.
☆ For fishing boats, the fish caught and the course will vary depending on the season.
We will consult with you by e-mail to decide on starting time and tour duration.
※Once payment has been confirmed, the reservation will become official.
Payment can be made on various credit cards or PayPal.
☆Please be sure to check our cancellation policy written at the bottom of this page before you make a reservation, as a cancellation fee will incur if you cancel.
If you need to change the date or cancel your reservation due to unavoidable reasons, please contact us by e-mail as soon as possible.
Note:
Itinerary is not insurance. 
Participants are advised to take out travel accident insurance.
☆You will receive a reply email within 3 business days of booking your tour.
☆If you have a special request or need to change the place of stay, we will adjust as much as  possible. 
☆Please check the contents before payment.
☆We will send you a final confirmation email as soon as your payment is confirmed.
☆Various credit cards and PayPal can be used.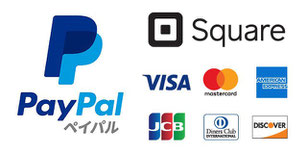 Please contact us in the following cases.
☆For groups of 16 or more. Up to 40 people can be on board.
 (The number of passengers may change depending on the COVID-19 situation.
☆We can transfer by vehicle from your hotel.
cancellation policy
・Cancellation between 31 days to 15 days prior to the date of reservation: 30%
・Cancellation between 14 days to  8 days prior to the date of reservation: 50%
・Cancellation between  7 days to   2 days prior to  the date of reservation: 80%
・Cancellation between  1 days prior to the date of reservation to the day of the event: 100%.
・No-show without notice: 100%.
※Cancellation of cruises 
 In the event of bad weather or other conditions that make it impossible to maintain safety of the tour, boat cruises will be cancelled. (Such decision may be made on short notice. Whenever possible, we will notify you at your hotel or at your designated contact details by phone or other means.) In such cases, the date and time of the cruise will be changed OR a full refund will be given.
*Unless we notify you of a change in the date or cancellation of the cruises, reasons of cancellation by the customer such as weather and transportation come under the responsibility of the customer, and will be subject to a cancellation fee. Please understand this in advance. 
※How to get a refund
Refunds from our company will be made in the same form of payment by the customer.
Except in the case of cancellation of the event or change of the date and time due to our convenience, you will be responsible for the bank transfer fee when you receive the refund, including the case where you made a mistake in the transfer amount.